Cosmetic Dentistry – Mount Vernon, OH
Make Your Smile Truly Shine
If you're less than satisfied with the appearance of your smile, you're far from alone! Very few of us are born with perfect teeth, but thankfully, cosmetic dentistry can give absolutely anyone a grin that instantly lights up the room. Using the treatments detailed below and her artistic eye, Dr. Dunker can improve every aspect of a patient's teeth and make minor flaws disappear at the same time. The smile of your dreams is much easier to get than you might think, and we'd love to show you how! To schedule a consultation to discuss cosmetic dentistry in Mount Vernon, OH, contact us today.
Why Choose Cross Creek Dental Care for Cosmetic Dentistry?
Porcelain Veneers: Smile Makeovers in Just 2 Appointments
Cosmetic Bonding: More Beautiful Teeth in Only an Hour
Teeth Whitening: Get Rid of Coffee, Wine, & Tobacco Stains
Porcelain Veneers
This treatment involves placing extremely thin ceramic restorations over the front of the teeth that act as masks, and this enables us to enhance their shape, size, and color in whatever way a patient wants. This one procedure can help correct multiple imperfections at the same time, including obvious stains, chips, cracks, and gaps. They are always custom-made so they perfectly suit a patient's facial shape and tastes, and you can get just one or an entire set in as little as two appointments.
Metal-Free Dental Restorations
For a very long time, any type of dental repair usually involved a dentist putting metal in someone's mouth, which always instantly sticks out in the smile. Today, however, Dr. Dunker can provide 100% metal-free fillings and crowns that are not only extremely durable, but lifelike in appearance as well. With these restorations, only you and he will be able to tell where you've had dental work, and you won't have to think twice about showing off your confident smile.
Cosmetic Dental Bonding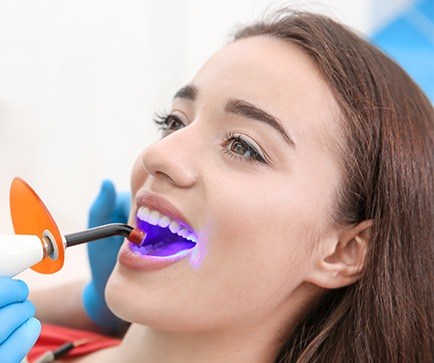 If you have just one tiny flaw in your smile that has bothered you for years, cosmetic bonding is a quick, easy, and affordable way to fix it. Dr. Dunker simply applies an enamel-colored composite resin to a less than perfect tooth, and this allows him to sculpt and reshape the tooth until it looks absolutely perfect. Once the resin is hardened with a curing light, you're done! The entire procedure only takes about an hour to remove small chips, stains, and gaps, and the results can be trusted to last for about a decade.
Teeth Whitening
Do you feel self-conscious about your stained or discolored teeth? Whether your smile's hue is due to coffee, wine, tobacco, or aging, our professional whitening treatments can effectively turn back the clock to make your teeth six to eight shades brighter. You can have a procedure completed in one visit to our dental office or use a custom-made kit at home. Either way, you'll enjoy the same quality result and the confidence boost that comes with it!