Veneers – Mount Vernon, OH
Helping Mount Vernon Smile Brighter
If you have significant stains, chips, and gaps in your smile, it can be hard to choose which cosmetic dentistry service is best to improve the appeared of your teeth. At Cross Creek Dental Care, we offer a treatment that can correct all of these issues in one fell swoop – veneers. This versatile solution can transform your smile by instantly concealing most aesthetic flaws. To learn more about how you can benefit from veneers in Mount Vernon, just give us a call!
Why Choose Cross Creek Dental Care for Veneers?
Get a Smile Makeover in Just Two Appointments
Dentist with 30+ Years of Experience
State-of-the-Art Dental Office & Technology
What Are Veneers?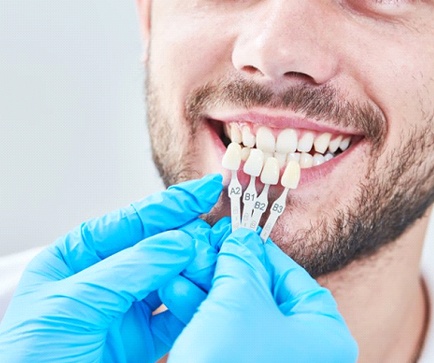 Veneers are super-thin shells of dental porcelain that are affixed to the front surfaces of teeth to conceal and correct cosmetic imperfections. Due to their unmatched versatility, we can use veneers in many different situations. We may recommend that you get veneers in order to:
Conceal dental stains or discoloration when teeth whitening treatment proves ineffective
Correct minor chips or cracks in the teeth
Address small orthodontic flaws such as slightly crooked, gapped, or rotated teeth
Build up a misshapen or worn-down tooth
Because they can be used in a wide variety of situations, a majority of our patients make good candidates for veneers. As long as your teeth and gums are generally healthy, veneers may be just the thing you need to address small aesthetic issues in your smile.
The Process of Getting Veneers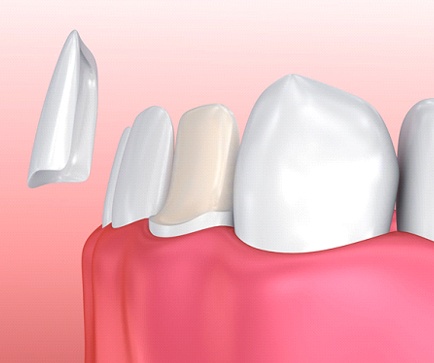 After a consultation with one of our dentists, it only takes two appointments to revamp your smile with veneers. During the first of these visits, we will prepare your teeth by removing a sliver of enamel. This allows the veneers to sit flush against the teeth and look and feel natural within your smile. Once your teeth are prepared, we'll capture impressions of your mouth and create a design for your veneers, which will be sent to a partnered dental lab. We'll finish the appointment by placing temporary veneers to protect your smile until then.
Your custom-made veneers will arrive from the lab a few weeks later. At that point, you'll return for your second appointment. During this shorter visit, we'll remove your temporaries, make any last-minute adjustments, and bond your final veneers to your teeth. All that's left to do is walk out of our office with your new and improved smile!
Benefits of Veneers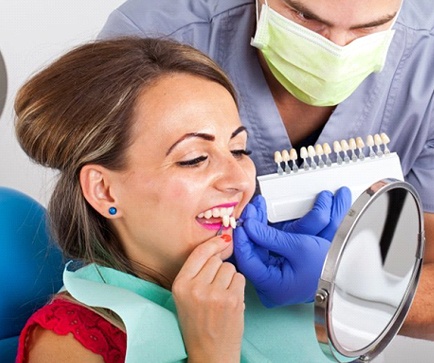 It should come as no surprise that veneers are one of the most popular cosmetic services we offer. Once in place, they allow you to enjoy a whole host of benefits, including:
Natural-looking results that will transform your smile and boost your confidence
A more conservative treatment than dental crowns
Results that can last for more than a decade with minimal maintenance
Dental porcelain that is more stain-resistant than tooth enamel
Dramatic results in only two quick appointments