Dental Implants – Mount Vernon, OH
The Ultimate Answer for Missing Teeth
Missing teeth are a problem that plagues over 120 million Americans at this very moment, but fortunately, dentistry has come up with a solution that enables patients to recover not just the appearance of their teeth, but the strength and stability as well. Instead of just sitting on top of the gums, implanted teeth are firmly attached to the jawbone using small titanium posts that act as tooth roots. At Cross Creek Dental Care, Dr. Dunker can use dental implants in Mount Vernon, OH to replace any number of teeth, and you can learn more about what this treatment could do for you by giving us a call today.
Why Choose Cross Creek Dental Care for Dental Implants?
Dentist with More than 30 Years of Experience
Member of the Excellence in Dentistry Implant Group
Entire Procedure Completed Under One Roof
Benefits of Dental Implants
Because dental implants replace the entire tooth from root to crown, they're able to offer a host of benefits you just can't get with other treatments:
Peace of Mind: Your implanted teeth will never slip out of place as you're eating or speaking.
Confidence: Each implant root is topped with a custom-made restoration that is specially-designed to blend into someone's smile and renew their appearance.
Jawbone Preservation: Bone loss in the jaw is very common after tooth loss, and this can erode the foundation of the remaining teeth and cause someone to develop facial wrinkles. Once in place, implant roots actually stimulate the jawbone and encourage the growth of healthy tissue right where a patient needs it.
Easy Maintenance: All a patient has to do is brush and floss their teeth like normal to keep their implants looking and feeling like new.
Built to Last: The average lifespan of an implant is more than 30 years, which is multiple times longer than a regular bridge or denture (which tends to average about five to seven).
Indications for Dental Implants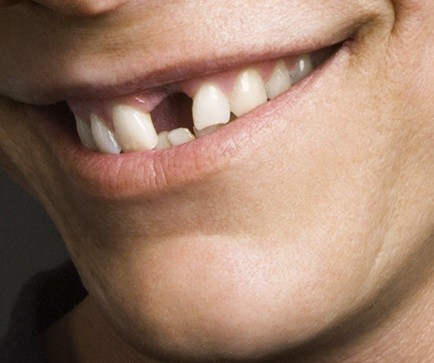 Whether you are missing one, a few, or even all of your teeth, Dr. Dunker can design an implant treatment specifically to meet your needs:
Missing Single Tooth
An implant root can be placed into the jaw between two healthy teeth and topped with a custom crown. This approach helps preserve a patient's natural dental structure because the nearby teeth don't have to be reshaped to accommodate the new one (unlike with a bridge).
Missing Multiple Teeth
A bridge or partial denture can be secured directly to the jawbone using implants to replace multiple consecutive or nonconsecutive missing teeth throughout the mouth. This makes these prosthetics much more stable compared to their removable counterparts, leading to more comfort and a stronger bite.
Missing All Teeth
Have a denture that just won't stay in place? With four to six well-placed implants, our team can anchor a full denture to the jawbone that is smaller and more stable than a traditional one. Because of their reduced size, implant-dentures leave much more room in the mouth, allowing for easy speech, plus they don't interfere with a patient's ability to taste.
Understanding the Cost of Dental Implants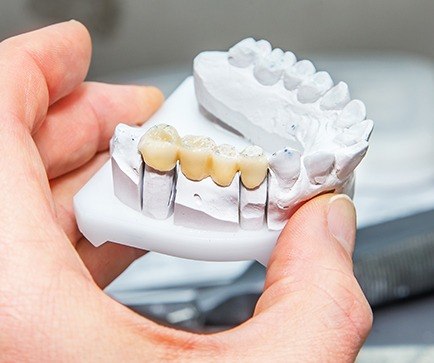 Every individual patient requires their own unique dental implant treatment, and factors such as the number of posts needed, the type of restoration required, and where the new teeth will be located within the mouth can all influence the final price. We'll go over all cost information when you come to see us for a consultation. Implants can be quite an investment, but they are intended to last for decades, and they often help patients save money because they don't have to frequently replace their new teeth, which is expected with traditional bridges and dentures.