Dentures – Mount Vernon, OH
Natural-Looking, Comfortable Replacement Teeth
Are you one of the more than 120 million Americans who have lost one or more of their permanent teeth? Every single tooth is essential for great oral health, so when even one is lost, your smile may face complications later on. Not to mention, everyday tasks like eating, talking, and smiling can become difficult without all of your pearly whites. At Cross Creek Dental Care, our dentists can complete your smile with custom dentures in Mount Vernon, OH. Contact us today to learn more about your options for these natural-looking, comfortable replacement teeth!
Why Choose Cross Creek Dental Care for Dentures?
Dentist with 30+ Years of Experience
Lifelike, Durable Materials for Years of Confident Smiles
Entire Implant Denture Treatment Completed Under One Roof
Who Is a Good Candidate for Dentures?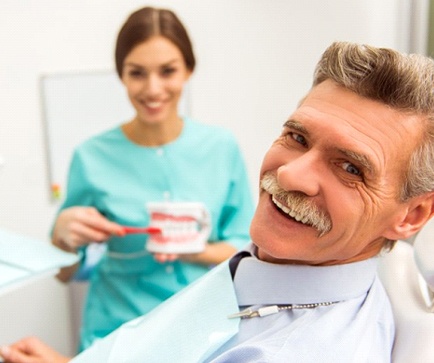 Have you lost a few, several, or even all of your teeth? If so, then chances are you're a good candidate for dentures! Each of these prosthetics are customized to meet your specific needs and complement your facial features to appear natural. Dr. Dunker or Dr. Buck can examine your mouth and determine whether you can begin the denture treatment process straight away or whether you'll require some preparatory procedures first, such as gum disease therapy or tooth extractions. These treatments will ensure that your dentures have the healthy foundation they need to deliver years of lifelike smiles.
Types of Dentures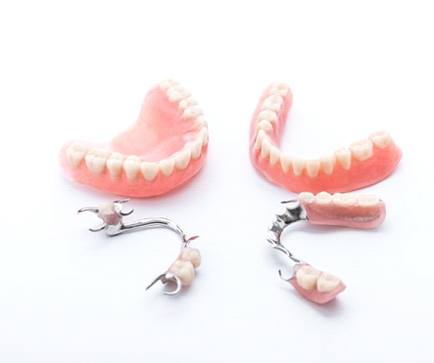 During your consultation with your dentist in Mount Vernon, you'll learn about the three basic types of dentures:
Partial Dentures
As the name implies, partial dentures bring back missing teeth when you still have some natural teeth in an arch. We capture impressions of your remaining teeth to ensure the replacement teeth blend right in with them. Once we have designed and created your partial denture, it attaches to your real teeth with metal clasps. It fills in the gaps so seamlessly that your denture is practically indistinguishable from your home-grown pearly whites!
Full Dentures
If you have lost all of the teeth on your top and/or bottom arch, then a full denture can recreate all of them at the same time. Instead of relying on a metal framework, the acrylic base of a full denture sits on top of your gums and stays in place with a natural suction force. Denture adhesive can also be used for added stability.
Implant Dentures
Alternatively, a full or partial denture can be attached to dental implants. These titanium posts are surgically placed in your jaw, where they fuse with the bone and function like the roots of your missing teeth. This allows implant dentures to not only last longer than traditional ones, but also restore more chewing power and prevent embarrassing slippage.
The Benefits of Dentures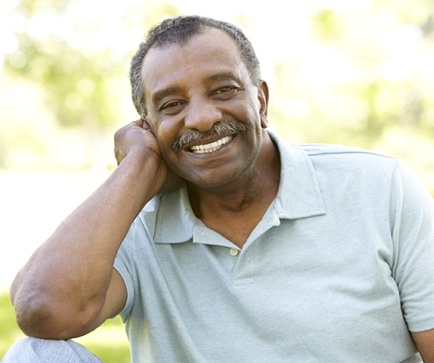 As a tried-and-true tooth replacement, you can look forward to multiple benefits of dentures, including:
Modern dentures are personalized to be more realistic and comfortable than ever before.
You'll be able to speak with clarity again.
It will be easier to enjoy crunchy or chewy foods that were almost impossible with missing teeth.
Smiling with confidence will be a breeze.
Cleaning dentures is pretty simple, and it's made easier by the fact that you can take them out of your mouth.
Dentures are a cost-effective tooth replacement that can fit into almost any patient's budget.