Orthodontics – Mount Vernon, OH
Straighter Smiles without the Metal
If you're an adult with crooked, crowded, or gapped teeth, you now don't have to get metal braces to straighten them. At Cross Creek Dental Care, Dr. Dunker is able to offer two solutions that are just as discreet as they are effective: ClearCorrect and Invisalign. With them, he can improve the appearance and function of your smile without you having to sacrifice your daily appearance in the process. Sound too good to be true? Give us a call today to learn more and see which for orthodontics in Mount Vernon, OH would be best for you!
Why Choose Cross Creek Dental Care for Orthodontics?
Two Braces-Free Ways to Straighten the Teeth
Custom-Made Treatments for Maximum Comfort
Highly-Experienced & Friendly Staff
ClearCorrect
With ClearCorrect, your friends and coworkers likely won't be able to tell that you're undergoing treatment. That's because it uses clear plastic aligner trays that practically disappear when they're placed over the teeth. Each one puts a small amount of pressure on the teeth that slowly brings them into their ideal positions. You'll be able to smile with confidence while using ClearCorrect, and better yet, whenever it's time to eat or brush your teeth, you can simply slip your trays off until you're done.
Invisalign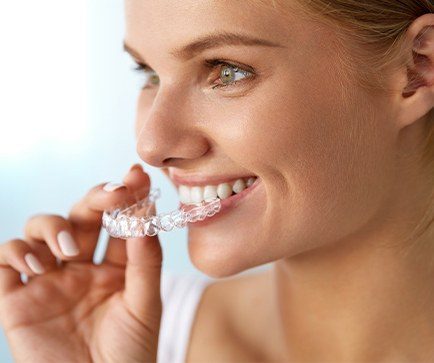 Invisalign is a clear aligner system that works very similarly to ClearCorrect, in that it enables patients to straighten their teeth and align their bite without having to wear bulky metal braces. Invisalign and ClearCorrect have subtle differences between them that make each treatment better suited for solving particular orthodontic issues compared to the other, so when you come to see us, we'll examine your teeth and recommend which one would be right for you. Either way, the average treatment time is about 12-18 months with clear aligners, which is much shorter than the two to three years most people have to wear braces.