Invisalign Clear Braces – Mount Vernon, OH
A Metal-Free Way to Straighten Your Smile
If you're an adult with crooked teeth, you might feel like you missed your opportunity to straighten your smile. After all, you don't want to look like a dorky teenager again by wearing awkward metal braces. Luckily, at Cross Creek Dental Care, we offer a metal-free way to straighten your smile with Invisalign clear braces. Instead of metal brackets and wires, Invisalign utilizes a series of comfortable plastic aligner trays to gradually shift your teeth into the desired position. If you're interested in Invisalign in Mount Vernon, give us a call to schedule your consultation. In the meantime, you can learn more by reading below.
Why Choose Cross Creek Dental Care for Invisalign?
Highly Experienced and Friendly Staff
Custom-Made Treatments for Maximum Comfort
Takes Less Time on Average Than Braces
How Invisalign Works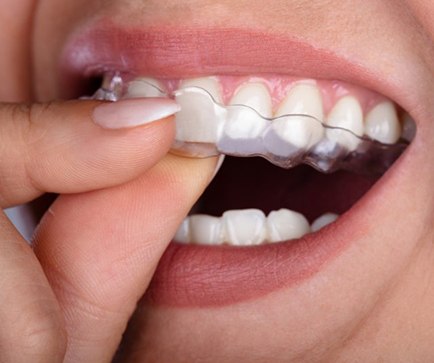 Once we decide that Invisalign is the right treatment for you, we begin the process by taking digital impressions of your bite. These impressions are then used to create your series of customized aligners. You'll wear each set for about two weeks before switching to the next one. Each set is designed to shift a small portion of your smile until the entire thing is perfectly aligned. In order to finish your treatment in a timely manner, you'll be expected to wear your aligners for at least 20 hours a day. Generally, you should only remove them when eating, drinking, and cleaning your teeth.
Indications for Invisalign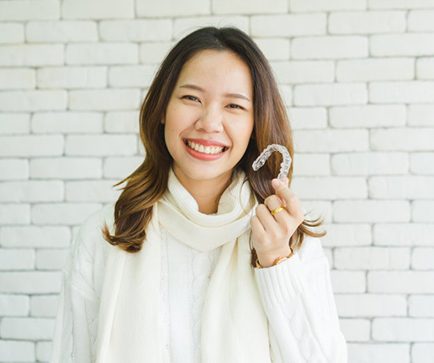 Some of the common orthodontic problems that Invisalign can correct are:
Crowded Teeth
Teeth that are too close together are extremely difficult to properly clean, putting you at risk for oral health issues like gum disease and tooth decay. Invisalign can space your teeth out evenly.
Gapped Teeth
Food particles can get trapped in large gaps between your teeth, attracting harmful bacteria that cause bad breath, among other dental health problems. Invisalign can close these gaps and preserve the health of your smile.
Bite Alignment
Problems like overbite, underbite, and crossbite can place pressure on your jaw joint and increase your risk of teeth grinding, jaw clenching, and temporomandibular joint (TMJ) disorder. Invisalign should be able to move your bite into the proper alignment.
Benefits of Invisalign
If you and the team here at Cross Creek Dental Care decide that Invisalign is the right treatment for your smile, here are a few of the benefits you can look forward to:
The average treatment time for Invisalign is 12-18 months. Traditional braces, on the other hand, typically take 24-36 months. Not to mention, patients with braces have to come in for frequent appointments to adjust their braces. With Invisalign, you only have to see us for brief checkups every six to eight weeks.
Comfort and safety. As traditional brackets and wires shift your smile, they can irritate the soft tissues in your mouth. Invisalign is designed with your comfort in mind. The smooth plastic aligners shift your teeth much more gently and shouldn't cause any soft tissue irritation.
Aesthetic superiority. Braces are highly visible when someone talks or smiles. Unless someone really knows what they're looking for or are standing very close to you, no one should be able to tell you're wearing your Invisalign trays. You shouldn't have to sacrifice your professional image to achieve straight teeth!
Cost of Invisalign
Because the cost of your Invisalign treatment depends on a number of factors, there is no fixed price. Some of the factors that influence your treatment cost are your age, the severity of your misalignment, and your compliance with our instructions. However, the only way to find out for sure how much you'd end up paying for Invisalign is to schedule a consultation with us!