Preventive Dentistry – Mount Vernon, OH
Stopping Cavities Before They Even Start
Did you know that even the most common dental issues (like cavities and gum disease) can be completely avoided just by maintaining a few simple habits? Consistent brushing and flossing are important, but so is regularly visiting the dentist for checkups and cleanings. This combination of home and professional care is proven to keep a smile both healthy and beautiful as the years go by, and we're more than ready to do our part here at Cross Creek Dental Care! To schedule you or your child's next appointment for preventive dentistry in Mount Vernon, contact us today.
Why Choose Cross Creek Dental Care for Preventive Dentistry?
Dentist with More than 30 Years of Experience
Friendly Team That Makes Everyone Feel Like Family
State-of-the-Art Dental Office
Dental Checkups & Teeth Cleanings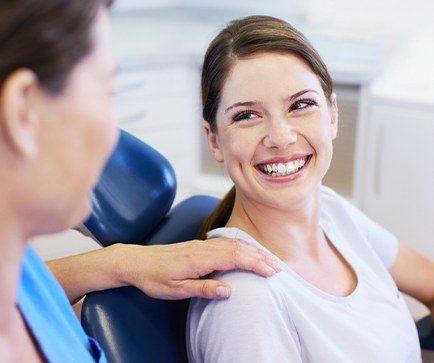 Whether someone is 2, 102, or somewhere in between, they should attend at least two checkups and cleanings each year. These appointments only take about an hour, but they can make a huge difference for someone's ongoing dental health. During one, Dr. Dunker will closely look at a patient's teeth, gums, and bite searching for any signs of damage or decay. By getting regular exams, a patient can have any small issues taken care of as early as possible. Plus, a thorough dental cleaning performed by a hygienist can remove harmful plaque and tartar from those hard-to-reach areas of the mouth that your tools at home usually miss, eliminating the root cause of both cavities and gum disease.
Periodontal Therapy
When it comes to the health of your smile, your gums matter just as much as your teeth! Without proper oral hygiene, they can actually develop an infection called periodontal disease, which can lead to redness, sensitivity, gum recession, bad breath, and even tooth loss. We check for periodontal disease at every visit, and if we find it, we can use a deep cleaning and special antibiotics to quickly get rid of it before it causes any real trouble.
Oral Cancer Screening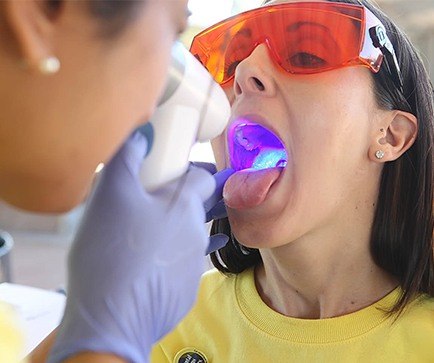 Oral cancer is very easy to miss early on, and if detected late, this can make treatment and recovery much more difficult for a patient. So, we perform a screening with the VELscope light at every standard checkup. This causes potentially cancerous cells to illuminate and stick out in the mouth that would otherwise be hidden from the naked eye. If we find anything that could indicate cancer, we can refer a patient to a doctor to get a proper diagnosis. That way, if treatment is needed, it can be started as quickly as possible, giving a patient the best chance to beat the disease.
Children's Dental Checkups & Teeth Cleanings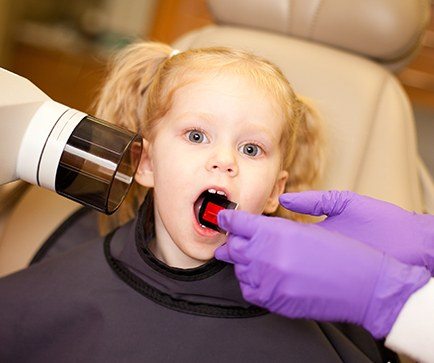 We recommend that a child should see a dentist for the first time right after their first tooth erupts, and they need to start attending regular checkups and cleanings around age two or three. At these appointments, we'll not only examine and clean your child's teeth, but we'll show them that dentistry is nothing to be afraid of as well. Our team is full of parents, so we know just how to keep little ones comfortable! These early-age appointments are also extremely important for establishing healthy oral care habits that will serve your child well into adulthood.
Fluoride Treatment
Wherever you are right now, you're probably not very far from fluoride. This mineral is added to toothpaste and tap water because when it comes in contact with the enamel, it actually strengthens it and lowers the risk of decay. We also use topical fluoride in our dental office to give our patient's extra cavity protection at their preventive visits. This treatment is great for patients of all ages, but it's especially helpful for children who are still learning how to brush.
Dental Sealants
Out of all the teeth in the mouth, the ones in the back (called the molars and premolars) are by far the most vulnerable to developing cavities. Why? Their location makes them difficult to brush (particularly for children), and their deep grooves easily trap plaque and bacteria. To stop this, we can place a thin layer of a plastic-based substance onto these teeth to literally seal the enamel off from anything that would do it harm. Young children can especially benefit from sealants. They only take a few minutes to apply and can easily last for about 10 years.