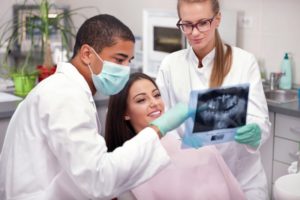 Removing plaque and tartar buildup, checking for oral health problems – you understand why it's important to have preventive exams every six months. But why is it important that you get dental X-rays?
Keep reading to find out why they matter, how often you need them, and how safe they are from your dentist in Mount Vernon.
Dental X-Rays Penetrate Beneath the Surface
Dentists complete years of extensive training to be able to spot early warning signs of oral health problems. However, a lot of these issues can't be seen by the naked eye. That's where X-rays come in.
These images allow your dentist to examine otherwise hidden areas, such as between and inside your teeth, your teeth's roots, and your jawbone. Common dental problems that are usually detected by X-rays include cysts, impacted wisdom teeth, and jawbone loss due to gum disease. Spotting these issues early on can make them much easier, and less expensive, to treat.
When Do I Need to Get Dental X-Rays?
Your dentist can examine your oral and overall health to determine how often you'll need X-rays. If you're a new patient, they'll most likely take a full series to use as a baseline moving forward. Unless you have chronic oral health issues or you're experiencing a specific problem, most existing patients only need to get X-rays taken once every 1-2 years.
How Safe Are Dental X-Rays?
Modern dental X-rays are designed to minimize potential radiation exposure. In fact, many offices have switched to digital X-rays, which reduce your exposure even further. Still, your dentist will probably place a leaded apron on you to cover your abdominal area and a leaded collar to protect your thyroid. The one exception to the rule is pregnancy. Patients who are pregnant or think they might be pregnant should avoid X-rays, as radiation is considered unsafe for a developing fetus.
X-rays should be a routine part of your oral care, just on a much more infrequent basis than brushing and flossing. They are crucial to help ensure your smile stays healthy throughout your life.
About the Practice
From the moment you arrive at Cross Creek Dental Care, rest assured that your health and happiness are our top priorities. Biannual checkups and cleanings will take care of small problems before they can turn into big headaches. If you develop a cavity or missing tooth, our custom-made restorations can turn back the clock for your smile. X-rays are a key aspect of your oral health, but as you've read, they will not be needed during every exam. They will help us ensure that your teeth are doing great and, if there is a problem developing, we will discover it as soon as possible. To schedule your dental cleaning and exam, visit our website or call (740) 392-6156.